Joe Brodman's 94 Formula (and other stuff)
|
home




92 Camaro RS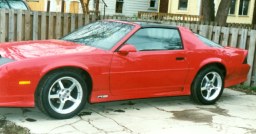 This is the car I traded in for my Formula.
I learned a lot from this car. From learning to properly handle a RWD car, installing a stereo system, to basic maintenance. I really don't miss it, but it was a fun ride.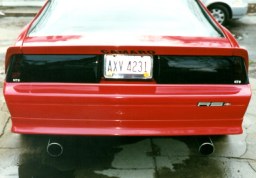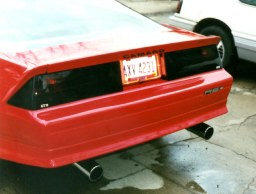 Info:
- 1992 Camaro RS 25th Anniversary Edition
- 3.1L, 140 HP V6, 5-speed Tranny, T-tops, Cruise, Power Trunk, A/C, Rear Defrost, and that's it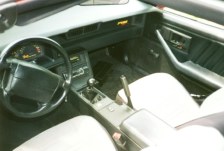 Mods:
- Dynomax Catback w/ Hooker Tips (for a 305, but fits). Factory exhaust rusted out, and this was the cheapest route
- K&N Drop-in filter. Cheap and didn't have to keep replacing filters
- LeBra Car Bra. The paint on the front end was horrible. You could wash it and it would still look very dirty. This covered it up nicely.
- System, w/ Clarion DRX-7475 Head Unit, Audio Art 240.4 4-channel amp, Audio Art 200.2XE 2-channel amp, Two 10" American Bass Phantom Subs, American Bass 6-channel crossover w/ remote bass control, Audio Art 6.5" Components in custom kick panels, and Boston Acoustic 6.5" Coaxials in the rear sail panels
- 17" ROH Snyper rims (currently on the Bird, and I'm selling them)
- GTS Light Covers (a MUST for 3rd Gen. Camaros)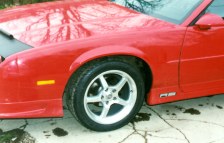 By the time I got rid of this, unknown to the dealer, it needed a new tranny soon, rear was leaking, window regulator was all screwed up, front end desperately needed painted, stock wheels (which they never saw until I traded it in) had snow tires on the rear, bald ones up front, needed new flywheel, needed another new starter because of the flywheel, center console had a big hole from my bass controller (remember, I stripped all the aftermarket stuff out of it, except for the exhaust, air filter, Bra, and light covers. They had no idea about any of this. Their fault for not even starting it up or looking inside. It sat on the lot for about 6 months, then I think they wholesaled it off.