Joe Brodman's 94 Formula (and other stuff)
|
home




History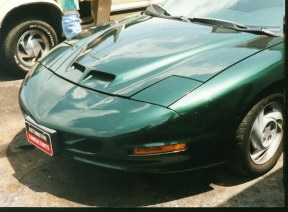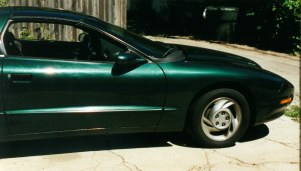 Here are a couple of pics the first day I had the car. She didn't stay near stock for long!
I purchased my 94 Formula on July 3rd, 1999. It had 42k miles on it, and was in pretty good shape. I purchased it from Automotive Consultants. I traded my
92 V6 Camaro RS
for it (if only they knew what was wrong with that car!!).
The car was pretty much original, except for a couple of items. The previous owner added the SLP Ram-Air HO kit to it. This kit consists of a Firehawk style Ram-Air hood, and the functional Ram-Air box, plus a couple of decals. The car also had a skip-shift eliminator installed on it as well, though I have never bothered to look at who made it. For those interested, you can easily make one yourself for under a dollar, so don't go wasting $30+ on one of these damn things.
This car has been my daily driver throughout college, and served as that until I purchased my Blazer in Dec/00. It will probably end up being my summer daily driver, since I enjoy driving it so much.
My original intent was to mod it, but at the time I had no idea how far I would go. I do now, and it is a never ending hobby! Here are the factory options it had:
Factory Options:
- 1994 Firebird Formula, with the 5.7L LT1 V8 (only motor available on a 93-97 Formula)
- T-Tops
- Borg-Warner T-56 6 speed manual transmission
- Power Windows, Locks, and Mirrors
- Base Stereo System (that lasted about a week)
- Keyless Entry
- A/C and rear defrost
- Oil Cooler (yes, this is an option, though most had them)
- Z-rated tires (important if you wanted the 155 MPH speedo)
- Power driver's seat
Pretty much everything else comes standard w/ the car.