Joe Brodman's 94 Formula (and other stuff)
|
home




93 Blazer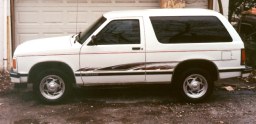 I just got this back in Dec. 2000. It is a 1993 Chevy S-10 Blazer. 4.3L Vortech, Auto, 2WD, A/C, and that's it. A true base model. It is white w/ some side graphics.
The stock rims were horrible, so I went and got a set of 16x7 American Eagle 203's w/ some new tires. It looks much better now.
I replaced the head unit with a Pioneer DEH-8200. I was able to get a really good deal on it, so that's what I got.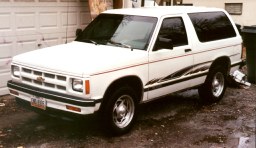 Future mods include:
- Shift Kit
- Hitch
- 2" Drop springs front, 3" blocks rear
- General interior cleanup and replacing a few small broken things