Joe Brodman's 94 Formula (and other stuff)
|
home




Learn about me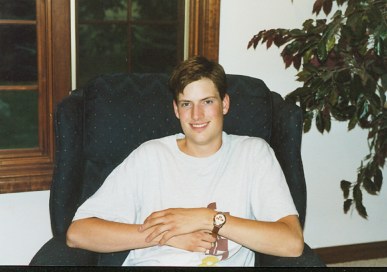 This is an older picture. I can't find any recent ones of me; I guess I waste all my film on my car!
Well, you already know my name, and should have a good idea about what this site involves. Now learn a bit about me.
I am a 21 year old college graduate. I grew up in a medium sized town of Marion, OH. After graduating HS, I moved to Columbus, OH, to go to college. I graduated from DeVry Institute of Technology in June/00 with a BS in Electronic Engineering Technologies. I am currently a software developer at a major telecommunications company.
Enough about me, how about my cars! My first was an 84 Renault Alliance. 1.3L EFI motor, base model as they come, and super slow. Lasted a couple of months then the tranny died. Good riddance.
My next car was an 86 Honda CRX Si. I left it totally stock, before I get the rice-boy crap thrown at me. It was lightweight and nimble, and still slow. It was in decent shape when it wasn't hit (had bad luck w/ it a few times, but not my fault). I drove it through HS and into college. But after a guy hit it and did some expensive body damage, I just kept the $$, drove it for a while, and saved up for something better. If you can't already tell, I've paid for all of my own toys, insurance, college, etc., so I'm definitely not some spoiled rich boy!
Next car was a
92 Camaro RS
. 3.1L V6, 5 speed, T-tops, and a couple of other options. Not a bad car, and was probably the best thing I could have learned to drive a rwd car in. I ended up putting a set of ROH Snyper rims on it, and a decent stereo. I also added a Dynomax exhaust (stocker rusted out), and that's about it. It was a good car, and I drove it for a year and a half. But it really wasn't what I "needed." I traded it in, stripping most of the aftermarket stuff (and ripping off the dealer in the process). If they only knew what it needed when I traded it in!
Now to my SWEET stuff. When I had the Camaro, I also bought a motorcycle. Its an
87 Kawasaki Ninja 750R
. Bone stock. It has a bit of road rash here and there, mostly from the previous owners. It hasn't been the most reliable machine, but I haven't dumped any major cash in it either. I'll have a link to it w/ some pictures later on.
Now for my baby. My
1994 Pontiac Firebird Formula
. You have already seen a pic of it on my home page. Go check out the link to the car, as well as to the mods. This is what the site is really about!
I bought a boat back in Sept./00. It is a
89 Sea-Ray
. 17', open bow, 130HP Merc I/O. It is in great shape, and I got a good deal on it. I only got to take a chance to take it out a couple of times, but I really love that thing. Next summer is going to be a blast. Of course, I'll have a link for it soon enough.
Finally, I purchased a
93 Blazer
in Dec./00. 4.3L Vortech, 4 speed Auto, 2wd, and pretty much a base model. I bought it so I could park the Bird during the salty season (winter for you southern folks). It will also pull my boat. I'm going to do a couple of tranny mods, lower it, and slap on some new rims, but that's about it.
I also enjoy home theater and other cool stuff, such as racing, boating, you name it.